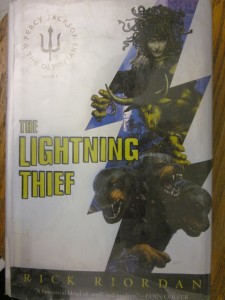 This week in sixth grade we are continuing our fantasy reading unit. In class we are reading the fantasy book The Lightning Thief by Rick Riordan.  The first week in library class we chose our fantasy books to read independently in class.  Some of the books we are reading include the Redwall Series, The Spiderwick Chronicles, The Lord of the Rings trilogy, Striker, I am Number 4, and many more!
At the beginning of our reading period Ms. Bull tells us to write down thoughts on our reading. We have learned about the different settings in fantasy (medieval, futuristic, or everyday world with fantasy elements) and different plot lines.   We have learned to pay attention when the character is learning about the fantasy world and that sometimes we need to learn alongside the character about the magical elements in our books.
So far this year we have read 13,733 pages and have read for 158 hours and 33 minutes.  That is the equivalent of 6.5 days!
By Ethan and Grant