The 6th graders presented their original hot pack and cold pack designs to a panel of representatives from ER Medical Supply Company (parents and a former beloved LES teacher, Nancy Gibavic). Each group designed either a hot pack or a cold pack that met the following conditions:
Able to be used without electricity
Safe
Easy to transport
Inexpensive
Working in a team of 4 or 5, the students worked independently to test the chemicals and find the perfect combination for their pack, design and test prototypes, and create a marketing plan.  They presented their ideas and showed their prototypes to the panel who then decided whether or not the product would be added to ER Medical Supply's collection of medical products.
Testing the chemicals for a cold pack: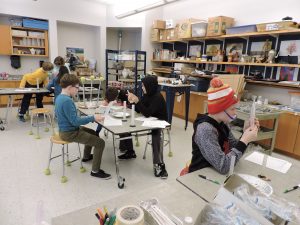 Testing prototype designs: